Hyderabad: Touted as a "game-changer" in rural development, a mega programme which aims at comprehensive development of villages was on Monday launched in Telangana.
The programme - 'Grama Jyothi' was launched by Chief Minister K Chandrasekhar Rao at Warangal district's Gangadevipalli village, which has won awards and appreciation from various quarters for its innovative development activities.
Speaking on the occasion, Rao stressed on making collective efforts for the development of villages and announced an amount of Rs 10 crore for the hamlet and urged its representatives to take up drip irrigation for better cultivation of crops.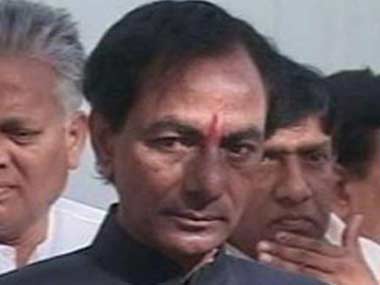 K Chandrasekhar Rao. Screen grab from CNN-IBN.
Several state ministers participated in the functions related to 'Grama Jyothi' at different places. Panchayat Raj and IT Minister K T Rama Rao, son of the Chief Minister, took part in 'Grama Jyothi' at Aziz Nagar in Ranga Reddy district.
Interacting with villagers, the minister sought their views to resolve the local problems.
"With 'Grama Jyothi', the rural people will decide priorities of their developmental needs and government will act accordingly. We understand that every village has its own set of problems and priorities and needs, which demands separate planning."
"We want the Aziznagar village development plans to be written in the Aziznagar Grama Sabha and not in Assembly or Secretariat," Rama Rao maintained.
"This is the sole theme of 'Grama Jyothi'," an official release in Hyderabad quoted the minister as saying.
According to the minister, the flagship scheme will be a "game-changer" towards inclusive and holistic development of hitherto backward villages.
The government will incentivise villages that achieve 100 per cent targets in the areas of sanitation, immunisation, nutrition, literacy and green cover, Rama Rao said.
The IT Minister appreciated the gram panchayat for achieving 100 per cent tax collection and assured all possible help from government to the villages.
He claimed that all villages in Telangana will have proper road connectivity in the next four years.
PTI
Published Date: Aug 17, 2015 22:37 PM | Updated Date: Aug 17, 2015 22:37 PM
Tags :#Grama Jyothi#K Chandrasekhara Rao#NewsTracker#Rural Development#Telangana
Deen Dayal Upadhyaya Gram Jyoti Yojana (DDUGJY)
Country
India
Prime Minister(s)
Narendra Modi
Ministry
Power
Key people
Piyush Goyal
Launched
2015
Budget
₹756 billion (US$12 billion)
Status
Active
Deen Dayal Upadhyaya Gram Jyoti Yojana (abbr. DDUGJY) is a Government of India scheme designed to provide continuous power supply to rural India.[1]
The initiative is named in honor of Indian political philosopher Deen Dayal Upadhyaya.
It is one of the key initiatives of the NDA government 2014-2019.
The government plans to invest ₹756 billion (US$12 billion) for rural electrification under this scheme. The scheme will replace the existing Rajiv Gandhi Grameen Vidyutikaran Yojana (RGGVY).[2]
The DDUGJY scheme will enable to initiate much awaited reforms in the rural areas. It focuses on feeder separation (rural households & agricultural) and strengthening of sub-transmission & distribution infrastructure including metering at all levels in rural areas. This will help in providing round the clock power to rural households and adequate power to agricultural consumers .The earlier scheme for rural electrification viz. Rajiv Gandhi Grameen Vidyutikaran Yojana (RGGVY) has been subsumed in the new scheme as its rural electrification component.
The Ministry of Power has launched a new app, GARV-II app to provide real-time data of all six lakh villages of the country. The app is envisaged to ensure transparency in the implementation of rural electrification programme. The new app will also enable the citizens to participate in the developmental works and can give their feedback and inputs related to the rural electrification programme. The participation of Citizens will enable public scrutiny of the rural electrification programmes. In addition, the village-wise works sanctioned under Deen Dayal Upadhyaya Gram Jyoti Yojana (DDUGJY) has been mapped to scrutinise the progress of work carried out under the project in each village[3]
The deadline for the Centre's rural electrification programme is May 2018.
Background[edit]
The rural agricultural and non-Agriculture consumers (domestic and non-domestic load) of the country are generally serviced through the local distribution network. Many rural areas of the country face insufficient electricity supply, consequently the distribution utilities are forced to resort to load shedding, thus affecting the power supply to both Agriculture and non-Agriculture consumers.
The demand of power in rural areas is increasing day by day due to changing consumer base, improving living standards for which augmentation of rural infrastructure needs to be regularly undertaken
The investment in the distribution network is low due to bad financial health of the distribution companies. Therefore, in order to augment the reliability and quality of supply distribution network needs to be strengthened.
To improve the commercial viability of power distribution, there is need for metering of all categories of the consumers
Scheme[edit]
Keeping in view the above problems, Ministry of Power, Government of India has launched Deen Dayal Upadhyaya Gram Jyoti Yojana for rural areas having following objectives:
To provide electrification to all villages
Feeder separation to ensure sufficient power to farmers and regular supply to other consumers
Improvement of Sub-transmission and distribution network to improve the quality and reliability of the supply
Metering to reduce the losses
Financial provisions[edit]
Scheme has an outlay of ₹760 billion (US$12 billion) for implementation of the projects under which Government of India shall provide Grant of ₹630 billion (US$9.6 billion)
Benefits[edit]
All villages and households shall be electrified
Increase in agriculture yield
Business of Small and household enterprises shall grow resulting in new avenues for employment
Improvement in Health, Education, Banking (ATM) services
Improvement in accessibility to radio, telephone, television, internet and mobile etc.
Betterment in social security due to availability of electricity
Accessibility of electricity to schools, panchayats, hospitals and police stations etc.
Rural areas shall get increased opportunities for comprehensive development
References[edit]
External links[edit]